Are you looking for a community of family gamers focusing on all the positive parts of tabletop gaming? No trolls, no snark, and no condescension? Maybe a bit of tomfoolery, but not too much? Then, the Game Schooler Podcast Discord server might be the place for you!
---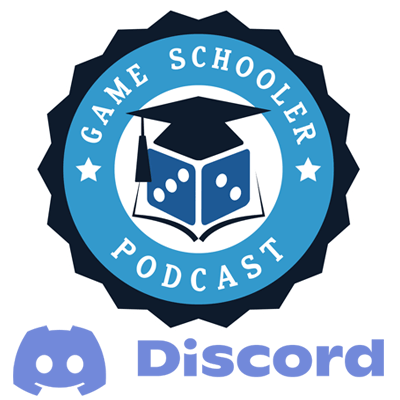 What is a Discord Server?
We usually describe Discord as a cross between a group text and a forum. There are different channels or topics to keep folks on point, but other than that, it's pretty free-flowing. According to the people who created this thing its…
"Discord servers are organized into topic-based channels where you can collaborate, share, and just talk about your day without clogging up a group chat."
In addition to text chats, users also have the option to communicate over audio and video. So it's like Zoom for your friends instead of co-workers and boring meetings.
To sign up for Discord – Check out https://discord.com
---
Why join the Game Schooler Podcast Discord?
Community
One of the biggest draws to this unique platform is the community. Within our little nook of Discord, you'll find like-minded individuals who share an interest in family gaming, gameschooling, and celebrating our awesome hobby! We have channels to discuss children's, family, and hobby games. Our channel dedicated entirely to gameschooling is a great place to reach out if you have a question or find yourself stuck in a tricky situation. Lastly, you'll find a friendly group of gamers to help with game recommendations, suggest rule variations, and share past experiences.
Direct Interaction With Doug & Michael
Yep, we use Discord as well. We love interacting with listeners, answering questions, and sharing top-secret information occasionally. We know emailing a podcast can be weird, and you may feel uncomfortable reaching out. The Discord server is a non-threatening way to connect and chat.
Gameschooling Resources
Michael and Doug have created some great gameschooling tools for parents and teachers. In the past, these downloads were behind a paywall. No longer! We want to share these awesome Skill-Builders, Subject-Builders, and Discussion Guides for FREE with the folks who join our Discord.