Full Description
Wondering About Wonders is a Discussion Guide for the board game, 7 Wonders©. This Guide inlcudes over 50 unique questions ranging from personal opinions, strategy, and game design.
A Game Schooler Discussion Guide© is a list of questions to help facilitators explore the game with their students and strengthen the skills learned during play. These are conversation starters for growth and development as gamers and humans.
Required Game
Note: This Game Schooler product requires the following game to fully implement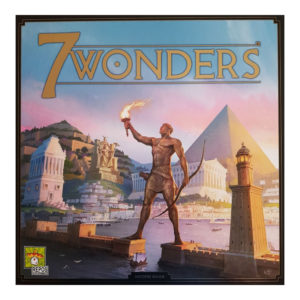 7 Wonders
Lead an ancient city as it rises to become a world power in7 Wonders, a competitive civilization building game set in the ancient Mediterranean and designed by Antoine Bauza. You might fortify your city and assault your neighbors in search of military victory, create a haven for artisans, scientists, and philosophers, or focus your economy and profit from trade. You might even complete a magnificent architectural wonder that will fascinate mankind for eons to come and grant your city lasting renown.
Learn More About This Game
This product is compatible with 7 Wonders by Repos Production. This is NOT an Official Repos Production product/project. This is a non-licensed product and all trademarks and copyrights are properties of their respective owners.