Full Description
In the board game Parks, players travel along a trail each season and attempt to visit as many national parks as possible.
Peeling back the game's content reveals deep and engaging learning opportunities for students and families getting ready to head to a national park or monument. This Game Schooler Subject-Builder© consists of three chapters covering the creation of the National Park Service, famed conservationist President Theodore Roosevelt, and the first National Park, Yellowstone.
Scholars and educators assembled the content of this Subject-Builder for students in grades 5-8. After completing this Subject-Builder, students will understand the Federal Department of the Interior, how one president set the foundation for the National Park System, and Yellowstone National Park's wonders.
** Works best when implemented with the board game Parks.
Required Game
Note: This Game Schooler product requires the following game to fully implement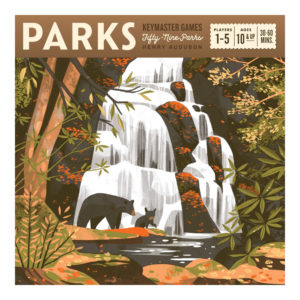 Parks
In PARKS, players will take on the role of two hikers as they trek through different trails across four seasons of the year. While on the trail, these hikers will take actions and collect memories of the places your hikers visit. These memories are represented by various resource tokens like mountains and forests. Collecting these memories in sets will allow players to trade them in to visit a National Park at the end of each hike.
Learn More About This Game
This product is compatible with Parks by Keymaster Games. This is NOT an Official Keymaster Games product/project. This is a non-licensed product and all trademarks and copyrights are properties of their respective owners.