Full Description
This Skill-Builder makes every game of Pandemic© more personal and engaging so students become fully immersed in the gaming experience.
Students create viruses for the board game Pandemic©. Before the game begins, students must name and draw the viruses, assign symptoms, explain how it spreads from person-to-person, and explore how it can be cured. Students are encouraged to be creative and have fun.
Required Game
Note: This Game Schooler product requires the following game to fully implement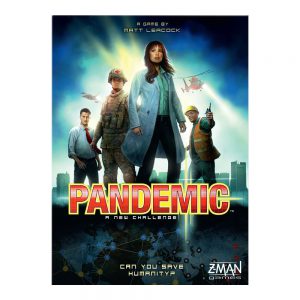 Pandemic
From designer Matt Leacock, Pandemic is a cooperative game of teamwork for two to four players. As members of an elite disease control team, you must keep four deadly diseases at bay. Work together as you travel the globe to treat infections while collecting the cards you need to discover a cure for each disease. But the clock is ticking as outbreaks and epidemics fuel the spreading plagues. As a cooperative game, players win or lose together. Only by working together can you keep the outbreaks in check and find the cures in time!
Learn More About This Game
This product is compatible with Pandemic by Z-Man Games. This is NOT an Official Z-Man Games product/project. This is a non-licensed product and all trademarks and copyrights are properties of their respective owners.