Full Description
Mouthing Off About Mummies is a Discussion Guide for the board game, Luxor. This Guide inlcudes 50 unique questions ranging from personal opinions, strategy, and game design.
A Game Schooler Discussion Guide© is a list of questions to help facilitators explore the game with their students and strengthen the skills learned during play. These are conversation starters for growth and development as gamers and humans.
Required Game
Note: This Game Schooler product requires the following game to fully implement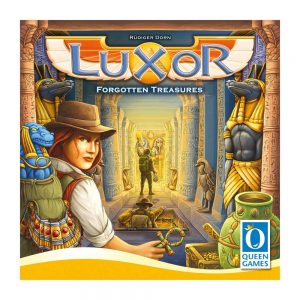 Luxor
On the hunt for priceless treasures, groups of adventurers explore the legendary temple at Luxor. Their ultimate goal is the tomb of the pharaoh, but many treasures can be collected as they search. As they explore, the challenge unfolds: The player who manages to quickly get their team of adventurers to the tomb, while salvaging as many treasures as possible, will be the winner. Luxor offers variable game play as the path that leads to the tomb is different for every game — and will even change during play!
Learn More About This Game
This product is compatible with Luxor by Queen Games. This is NOT an Official Queen Games product/project. This is a non-licensed product and all trademarks and copyrights are properties of their respective owners.