Full Description
In this Skill-Builder, students become film directors hired to make the next great monster movie! Our gamers will use the results from their last game of Horrified™: Universal Monsters™ as the script for their project. Along the way they will track the major events that occur and lay out a rough story outline. Film directors often use storyboards, or pictures, to map out their movie before they shoot any film. Students will produce storyboards for their monster movie and learn the building blocks of story telling as they build their film. Once the storyboards are completed, students will present their film idea for review to see if it's ready for production!
Students reimagine events from the game and transition them back into the movie world. The art from the game board and components allow students to explore both art and creative writing while building the outline for a new movie dictated by gameplay events.
** Requires the board game Horrified™: Universal Monsters™ to fully implement.
Required Game
Note: This Game Schooler product requires the following game to fully implement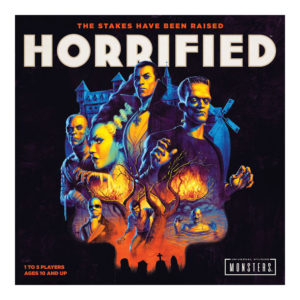 Horrified: Universal Monsters™
A city screams in terror! A cooperative game against the world's most famous monsters. The village is under attack! Dracula, The Mummy, Frankenstein's Monster, his Bride, and more are on the rampage, and your team of heroes must defeat them. Each monster offers an entirely unique challenge, and players can adjust the difficulty by playing against a new group of adversaries every game! Overcome them all before the horror overwhelms you!
Learn More About This Game
This product is compatible with Horrified: Universal Monsters™ by Ravensburger. This is NOT an Official Ravensburger product/project. This is a non-licensed product and all trademarks and copyrights are properties of their respective owners.