Full Description
Have you ever heard a train that's far away, and thought about what it was carrying? Have you ever been riding in a car when a train goes by and wondered, "what's inside that train?" In this Skill-Builder, the gamers fill their own train cars!
Students will create drawings that belong in a theme or category, and design based on ideas and explain their thoughts.
Required Game
Note: This Game Schooler product requires the following game to fully implement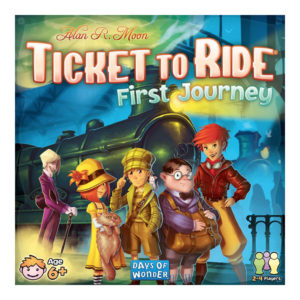 Ticket to Ride: First Journey
Players of all ages can now venture across America by train in Alan R. Moon's Ticket to Ride: First Journey. With a brand new map and simplified rules, First Journey is the perfect way to introduce new players to the game of cross-country travel. Just like in Ticket to Ride, players collect train cards, claim routes, and try to connect cities coast-to-coast. In First Journey, though, routes are shorter, train cards are drawn straight from the deck, and the game ends when one player completes six tickets, claiming the Golden Ticket as their prize. Climb aboard, travelers, your incredible First Journey awaits!
Learn More About This Game
This product is compatible with Ticket to Ride: First Journey by Days of Wonder. This is NOT an Official Days of Wonder product/project. This is a non-licensed product and all trademarks and copyrights are properties of their respective owners.