Full Description
From the Pharaohs to Alexander the Great, historic leaders commissioned ancient wonders and civilizations built a wide variety of magnificent structures. The board game 7 Wonders© highlights the historic must-see sites that shaped Western culture.
Gamers explore the pyramids, bronze statues, temples, and monuments that comprise the 7 Wonders of the ancient world. After learning about the ancient wonders, students complete a quiz, match each wonder to a fact, and enter each wonder on a timeline.
Required Game
Note: This Game Schooler product requires the following game to fully implement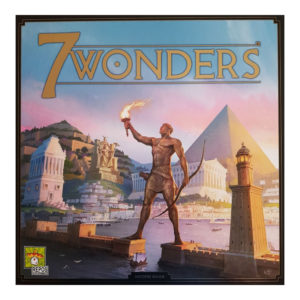 7 Wonders
Lead an ancient city as it rises to become a world power in7 Wonders, a competitive civilization building game set in the ancient Mediterranean and designed by Antoine Bauza. You might fortify your city and assault your neighbors in search of military victory, create a haven for artisans, scientists, and philosophers, or focus your economy and profit from trade. You might even complete a magnificent architectural wonder that will fascinate mankind for eons to come and grant your city lasting renown.
Learn More About This Game
This product is compatible with 7 Wonders by Repos Production. This is NOT an Official Repos Production product/project. This is a non-licensed product and all trademarks and copyrights are properties of their respective owners.