Full Description
In 2019, the award-winning card game, Point Salad©, emerged. In Point Salad©, players collect vegetables and cards to scoring those vegetables. It's fun, it's fast, and it's healthy! Wait a second, how can a card game be healthy?
Students in grades 3-5 may already know about vegetables, but do they know why they need to eat their vegetables? After completing this Subject-Builder, students will understand the benefits of eating vegetables, explore the specific vegetables featured in Point Salad©, and learn about how vegetables get from the farm to the table. This Subject-Builder unpacks something people consume on a daily basis, food!
Required Game
Note: This Game Schooler product requires the following game to fully implement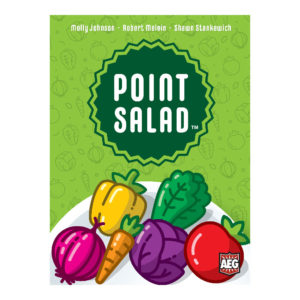 Point Salad
Point Salad is a fast and fun card drafting game for the whole family. There are over 100 ways to score points. Players may use a variety of strategies and every game of Point Salad is unique! Cards come in six different types of veggies, and the back of each card has a different scoring method. So for instance, one scoring method may award 2 points for every carrot you have, but deduct a point for every onion. By drafting combinations of veggies and point cards that work for your strategy, you can amass the most points and win.
Learn More About This Game
This product is compatible with Point Salad by AEG. This is NOT an Official AEG product/project. This is a non-licensed product and all trademarks and copyrights are properties of their respective owners.