Full Description
Conversation King is a Discussion Guide for the board game King of Tokyo. This Guide includes 45 unique questions ranging from personal opinions, strategy, and game design.
A Game Schooler Discussion Guide© is a list of questions to help facilitators explore the game with their students and strengthen the skills learned during play. These are conversation starters for growth and development as gamers and humans.
Required Game
Note: This Game Schooler product requires the following game to fully implement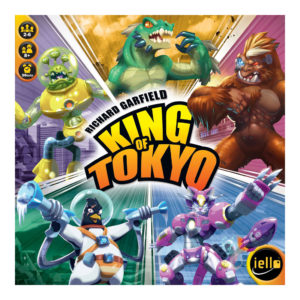 King of Tokyo
King of Tokyo is a game for 2 to 6 players where you play as mutant monsters, rampaging robots, or even abominable aliens battling in a fun, chaotic atmosphere. Roll dice and choose your strategy: Will you attack your enemies? Heal your wounds? Improve your Monster? Stomp your path to victory! To win, be the first Monster to gain 20 Victory Points. Or, get your claws out and eliminate your enemies. The last one standing claims victory!
Learn More About This Game
This product is compatible with King of Tokyo by IELLO. This is NOT an Official IELLO product/project. This is a non-licensed product and all trademarks and copyrights are properties of their respective owners.